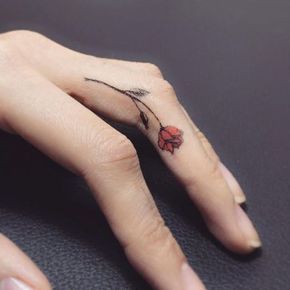 Many people have a unique hobby for mini things. This small tattoo not only gets rid of the old world's secular vision, it also represents a beautiful fashion. Although the small tattoo is not conspicuous, it has exquisite and beautiful visual enjoyment. I like the noisy city life, when a person is quiet. It is like this little tattoo, which exudes a unique charm, does not need to be shared with others, as long as it is silently appreciated, reminiscent of the romantic atmosphere.
A small tattoo contains a lot of energy. Most of these small tattoos are displayed in a simple cartoon image. It is simple and fashionable, so it is highly sought after by many young people. The unique personality design makes it unique.
Wearing short sleeves in the summer, revealing a white and tender arm, suddenly accidentally. Seeing that the pattern has a red little love, is it instantly softened! This is also the favorite of women! Like a unique and full of personality, not revealing but releasing endless charm.
Many girls want to tattoo but don't know what to print. Today, I will show you some tattoos suitable for small girls.